Happy (almost) Labor Day weekend! If you're still looking for a really fun, delicious, and healthy(-ish!) main dish for your cookouts this weekend, this Cauliflower Po' Boy Sandwich is just the thing for you!
What is a po boy?
A traditional sandwich from New Orleans, a po' boy is typically served on French bread and stuffed with roast beef or fried seafood, oftentimes shrimp. A slather of creamy remoulade sauce ties the whole thing together.
While I may not be making a roast beef po' boy anytime soon, this crispy cauliflower po' boy has been on repeat around here for the last few weeks. The crisp-tender cauliflower reminds me of the texture of fried shrimp, and I toss it in a lemony, Creole-spiced panko coating for a boost of flavor. Finished with juicy tomatoes, crisp lettuce, and a creamy/tangy/smoky sauce, it's a delectable way to celebrate the end of summer!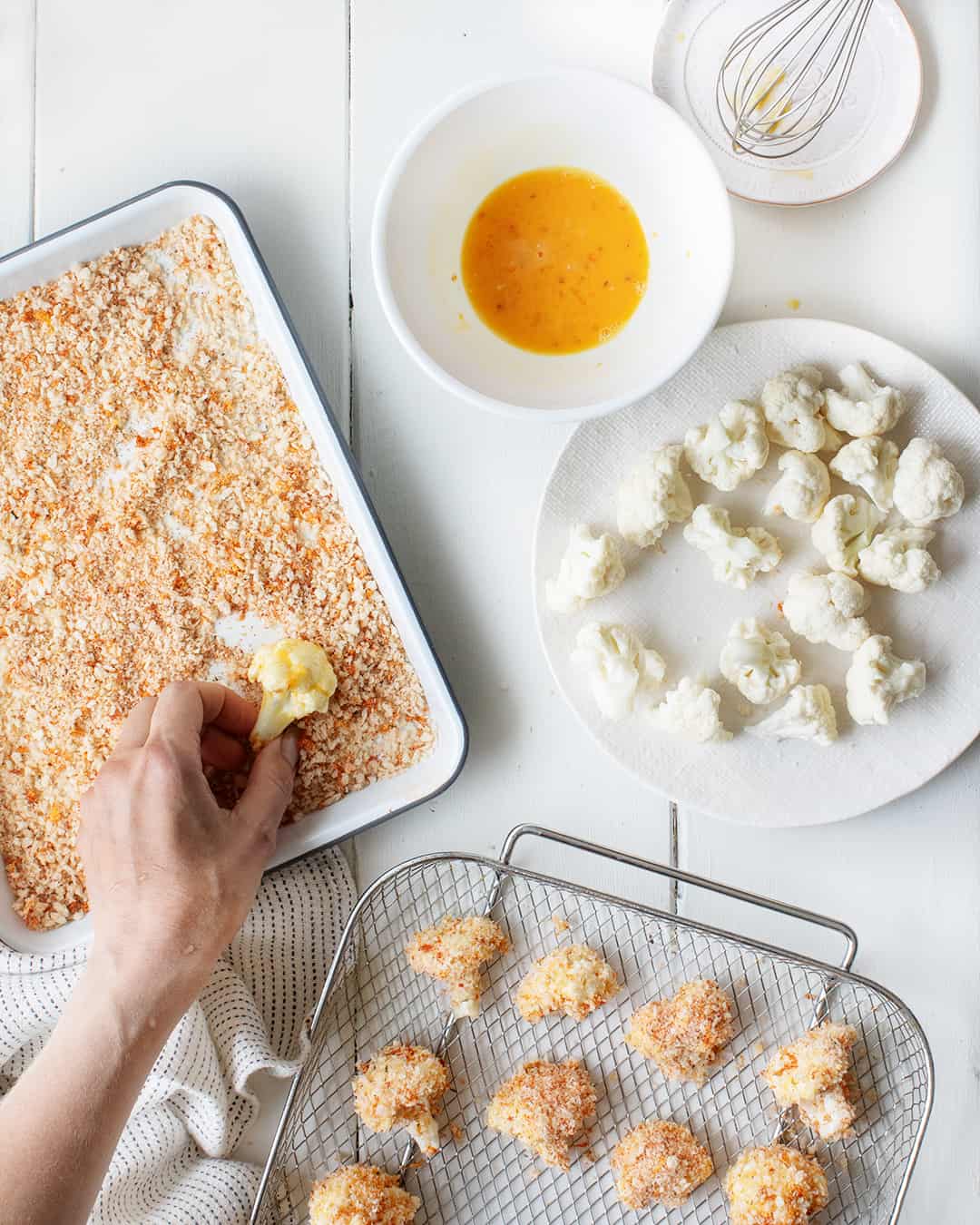 My Po' Boy Recipe Ingredients
I've experimented with veggie po' boys before, but this time I streamlined the recipe. I skip the cornmeal in the crispy coating, using a mix of panko, Creole seasoning, and lemon zest to coat the cauliflower. A lightly beaten egg binds it to the veggies.
Then, I make an easy homemade remoulade sauce with 5 simple ingredients:
Mayo is the creamy base.
Garlic adds depth of flavor.
Hot sauce spices it up.
Paprika gives it a smoky kick.
And Dijon mustard adds a tangy finish.
Just grab tomatoes, lettuce, pickles, and soft baguette or French rolls to complete the sandwiches, and you're good to go!
How to Make a Po' Boy Sandwich
Once your ingredients are prepped, these sandwiches are easy to put together. Here's what you need to do:
Mix together the panko, Creole seasoning, and lemon zest. Dip each cauliflower floret in the egg wash, and then toss it in the panko mixture until it's fully coated.
Spread the breaded cauliflower florets on a parchment-lined baking sheet, drizzle them with olive oil, and roast them in a 400-degree oven until they're crispy and golden, about 20 minutes. (If you have one, an air-fryer works here too!)
While the cauliflower cooks, stir together the remoulade sauce.
Finally, load up the sandwiches with the breaded & baked cauliflower, the sauce, and all the fixings! Enjoy!
Po' Boy Sandwich Serving Suggestions
I like to serve my po' boys with a big squeeze of lemon and extra sauce on the side. If you need ideas for what to pair them with, try any classic picnic fare. As you can see in the photos, we like them with potato chips, but sweet potato fries with chipotle sauce or any of these summer salads would be great choices too:
Happy picnicking!
If you love this po' boy sandwich…
Try my BBQ jackfruit sandwiches, tempeh club, vegan banh mi, or avocado sandwich next!
Click here to browse more recipes!
The post Crispy Cauliflower Po' Boy Sandwich appeared first on Love and Lemons.